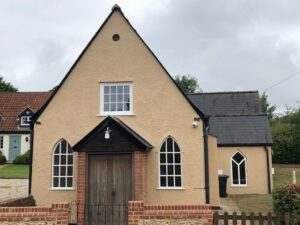 For bookings please contact the Bookings Secretary on parishhall@cheveley-pc.gov.uk. 
Cheveley Parish Hall is the ideal venue for meetings and events, parties, dinners and wedding receptions.  Opened in 2021, the Hall offers an exciting new space for residents, community groups and businesses to use.  It is owned by Cheveley Parish Council.  The day-to-day running of the Hall is currently carried out by volunteers and Councillors.
Facilities

Cheveley Parish Hall has two large rooms of similar size, both of which have exterior access.  The Garden room at the rear opens up onto a small outside area and the Jubilee Room opens up onto the High Street.  Both rooms are accessed from the reception area.  The reception area contains toilets with facilities for the disabled and a second mixed-use toilet.  A baby-changing unit is included in the accessible toilet.  The main doors from the reception area lead out onto the main car parking area with easy-access doors suitable for wheelchair users.
Garden Room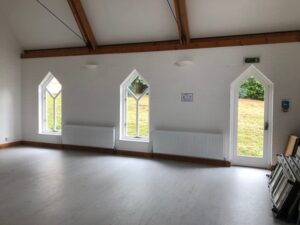 The kitchen can be accessed from either the reception area or the Garden Room and is suitable for limited catering, with hot plate, microwave, kettles, large water boiler, fridge and dishwasher.  Some crockery/cutlery is also available.
Free WiFi is available to all hirers if needed.
Jubilee Room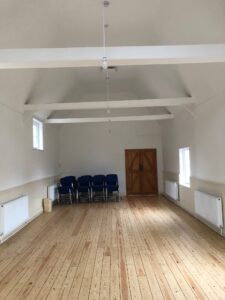 Car parking

There is limited car parking at the Hall.  However, there is a space allocated for a disabled user and there is parking within a five-minute walk at the recreation ground.  You will also find parking available on nearby streets.  We ask that you consider the needs of residents and other users when you park, and park with care and attention.